Release of DPA Industrial with New C1 Camera Puts High-Accuracy, High-Speed Photogrammetry into the Most Challenging Environments
Hexagon's Manufacturing Intelligence division today launched DPA Industrial, featuring the new C1 Camera in combination with the well-established AICON DPA Series photogrammetry measurement system. Designed to make photogrammetric measurement simple and rugged enough to allow inexpert operation in inhospitable workshop conditions, DPA Industrial is set to establish itself as one of the most accessible high-speed/high-accuracy measurement tools on the market.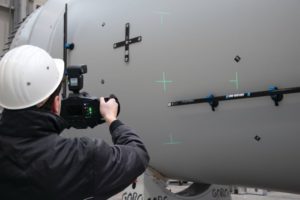 The overall DPA Industrial system is a fully portable coordinate measuring system that works over measurement volumes of up to 10 meters diagonal and delivers digital models to an accuracy of within just 10 microns. Full WiFi functionality along with extremely long-life battery operation make DPA Industrial an easy-to-use system for measurement directly in the production environment without causing costly production interruptions.
The new C1 Camera is a ruggedized DSLR camera unit designed to withstand extremely challenging shop-floor industrial environments. The highly resilient casing also presents an extremely simplified measurement process, with settings adjustment and controls moved behind the scenes to produce an essentially point-and-shoot camera that can be used by inexpert operators to deliver metrology-grade results. The unit features a single button for image capture, along with a viewfinder for controlling field of view.
"In developing DPA Industrial, we were very focused on delivering a simplified user-experience that would both protect against operating errors and make the system easy to use with only basic training," said Andreas Rietdorf, DPA Product Manager at Hexagon Manufacturing Intelligence. "The DSLR cameras required by this sort of measurement system have always been an expensive and delicate investment, so a solution that delivers a more robust experience fits exactly the needs we've heard from users."
DPA Industrial is available to order immediately, with first orders shipping in March 2019.