Swedish Technology Businesses Demonstrate a 5G-Ready Connected Sensor Solution for Manufacturing at Hannover Messe 2019
North Kingstown, RI – March 26, 2019 – Hexagon's Manufacturing Intelligence division today announced plans to demonstrate a path to 5G with a connected sensor solution in partnership with Ericsson, a global leader in cellular communication offering dedicated wireless communication and IoT solutions for industries.

The joint demonstration will showcase the use of 5G-ready connectivity for the operation of Hexagon's Absolute Arm portable measurement system scanning a truck part. The portable arm can be used to fully digitize the part for applications from quality assurance through comparison to CAD through to reverse engineering. Ericsson's Industry Connect solution allows the arm to communicate wirelessly with the metrology software on a PC and will in future enable the seamless transfer of measured data to stakeholders around the factory, enabling data-driven decision making to optimize processes from design through to production. Visitors to Hannover Messe can see the 5G-ready connected sensor demonstration on both the Hexagon booth (hall 6, stand K10) and on the Ericsson booth (hall 8, stand D28).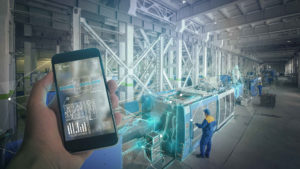 "Hexagon aspires to be the leader in creating autonomous connected ecosystems for the industries we serve," says Norbert Hanke, President of Hexagon's Manufacturing Intelligence division. "To achieve this vision in manufacturing means overcoming the challenges of connectivity within the factory environment as well as throughout the global supply chain. Emerging connectivity solutions such as 5G will play a huge role in the digital transformation of manufacturing. Partnering with an industry leader like Ericsson is helping us understand how this technology can be best utilized to power the smart factories of tomorrow."
Elsewhere in the Hexagon booth, demonstrations include a complete toolchain for additive manufacturing and a new cloud-based solution for factory resource management. Visitors will also be invited to imagine the future of manufacturing through an immersive augmented reality experience.
Hannover Messe 2019 runs from April 1-5, 2019 at the Hannover Exhibition Grounds. To register for a complimentary ticket, visit the Hexagon website.
About Ericsson
Ericsson is one of the leading providers of Information and Communication Technology (ICT), with about 40% of the world's mobile traffic carried through Ericsson's networks. Ericsson enables the full value of connectivity by creating game-changing technology and services that are easy to use, adopt and scale, making our customers successful in a fully connected world. For more than 140 years, our ideas, technology and people have changed the world: real turning points that have transformed lives, industries and society as a whole. The Ericsson stock is listed on Nasdaq Stockholm and on Nasdaq New York. www.ericsson.com
Learn more about Ericsson's industrial offering at www.ericsson.com/industry4.0
About Hexagon's Manufacturing Intelligence Division
Hexagon's Manufacturing Intelligence division helps industrial manufacturers develop the disruptive technologies of today and the life-changing products of tomorrow. As a leading metrology and manufacturing solution specialist, our expertise in sensing, thinking and acting – the collection, analysis and active use of measurement data – gives our customers the confidence to increase production speed and accelerate productivity while enhancing product quality.
Through a network of local service centers, production facilities and commercial operations across five continents, we are shaping smart change in manufacturing to build a world where quality drives productivity. For more information, visit HexagonMI.com.
Hexagon is a global leader in digital solutions that create Autonomous Connected Ecosystems (ACE). Hexagon (Nasdaq Stockholm: HEXA B) has approximately 20,000 employees in 50 countries and net sales of approximately 3.5bn EUR. Learn more at hexagon.com and follow us @HexagonAB.