PC-DMIS 2019 R1 offers workflow, performance and user experience improvements
Hexagon's Manufacturing Intelligence division just launched PC-DMIS 2019 R1, the latest edition of the world's most popular measurement software. This is the first of two major releases scheduled for 2019, with continued service pack updates to ensure maximum reliability of the platform. PC-DMIS 2019 R1 introduces the new GD&T Selection and Capture tool which saves the user time, effort and will reduce input errors by automatically transferring GD&T data from 2D 'blueprints' into the PC-DMIS measurement routine. This is achieved using optical character recognition (OCR) technology and is an industry-leading innovation within metrology software. The new PC-DMIS Protect module is ideal for customers with stringent process controls and auditing standards as Protect enables users to control access to measurement routines and track modifications to them (available as a paid option). Only users with permission can amend protected routines and the business can track and audit any changes.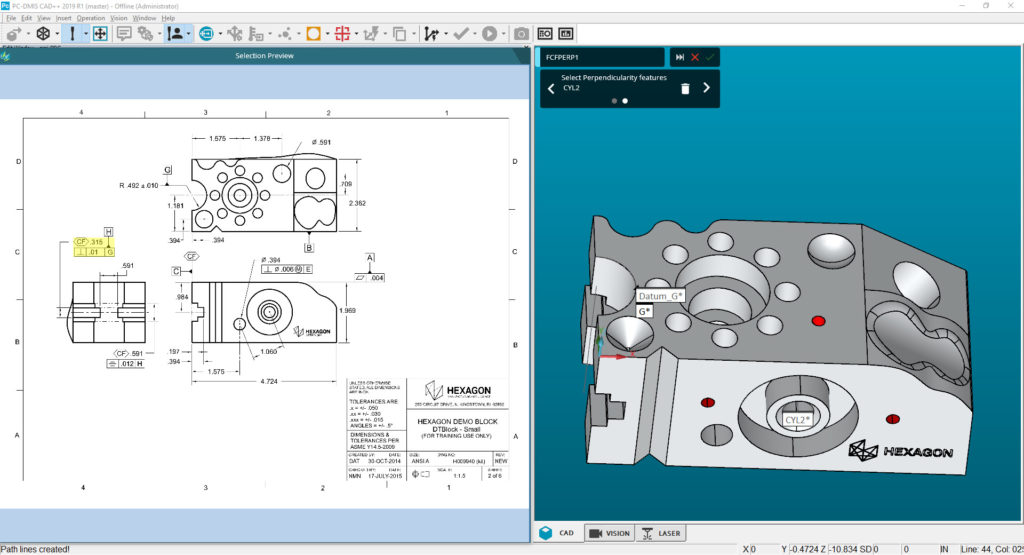 The new Universal Updater is a simple, intuitive tool allowing users to manage software updates for all Hexagon Manufacturing Intelligence software, learn about complementary products, stay up-to-date with Hexagon news and gain linked access to Hexagon community platforms. Reporting flexibility has also been significantly improved with the Excel Forms Report function. Users can now define the structure and layout of the Excel report to meet the varying reporting needs of the business and PC-DMIS will populate it automatically.
Probe protection has been improved with enhanced calibration collision avoidance capability. During the user's regular measuring system calibration, a new layer of intelligence allows PC-DMIS to identify areas of possible collision and ensure collisions between the probe and any fixed surface are avoided. Likewise, PC-DMIS 2019 R1 automatically inserts safe moves needed to avoid collisions around complex parts directly into the measurement routine.
In a nutshell, PC-DMIS 2019 R1 has over 40 new features, improvements and stability fixes, including:
GD&T Selection from Capture – a market first. Use advanced optical character recognition (OCR) technology to simply and quickly import GD&T data from 'blueprints'.

Protect – 'certify' and lock your valuable measurement routines, creating an auditable trace of any future changes.

Excel Forms Report – Complete reporting flexibility. Design your report in Excel and PC-DMIS will export to Excel at the press of a button.

Universal Updater – an intuitive app that allows you to keep up to date with all your metrology software, discover other products and connect to our world-class forum.

Calibration collision – Advanced new algorithms means collisions during calibration are a thing of the past.
"We are very pleased to release this latest version of our market-leading metrology software PC-DMIS," says Ken Woodbine, Product Line Manager for Metrology Software at Hexagon Manufacturing Intelligence. "PC-DMIS 2019 R1 continues the trend towards optimizing each of the three primary metrology tasks of measurement creation, execution, and collaboration. The improvements in this version bring us ever closer to a perfect balance between user experience and capability."
Other notable enhancements include single-click ability to measure the thickness of a transparent material and calculate and report a 2D thickness and gauge position; and improved customer service with responsive HTML Help, enabling assistance without having PC-DMIS installed and with embedded multimedia support.
PC-DMIS 2019 R1 is available to download immediately. For More Information, click here.
Click here for a walk back in time and a look at "Demystifying DMIS" from Quality Digest.